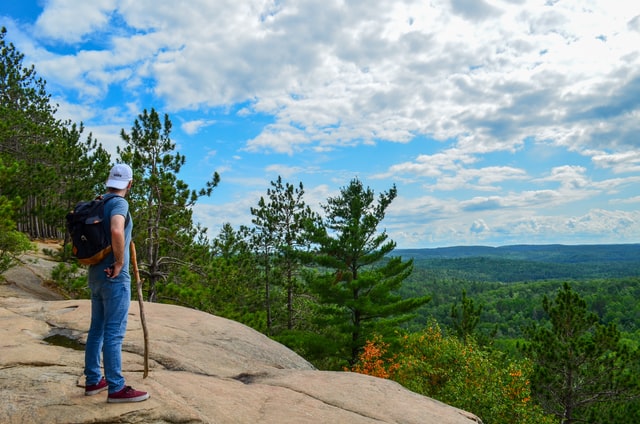 The Algonquin Park is one of the most popular and oldest provincial parks in Ontario. If you are someone who is in awe of adventurism at its best, the region offers you plenty of options for hiking. We will try exploring a few of the worthy trails here so as to introduce you to the adventure available in the Algonquin Park area.
The Spruce Bog Boardwalk
This trail includes a 1.5-kilometre trail that provides you access to a great degree of advantage and enjoyment at its best. The trail is completely barrier free and provides you an enjoyable 45 minutes of walk. It offers you an option to check out two spruce bogs end route which can be a great way to understand what is a bog. You may even witness a few wonders of nature here such as Pitcher plant.
Whiskey Rapids Trail
This is a loop trail and provides you access to a 2.1 km loop. The hike is quite good enough for almost every type of skill levels to choose from. It should take around 1.5 hours for almost each of your needs. You will be able to walk through and along the Oxtongue River. You can have a great view of the Whiskey Rapids.
Two Rivers Trail
The trail is one of the excellent choices for providing you access to a great degree of experience. The 2.3 km loop is best suited for almost all the expectations that you may have in terms of every skill level that you can ever think of. The 1.5 hour through the young forest is what would make it a great option ever. you would find it a great option for enjoying one of the unique experiences in overlooking the North Madawaska River.
Hemlock Bluff Trail
You can walk through the 3.5 km loop through the mixed forest background. He trials provides you an enhanced and unique look at the beautiful views of Jack Lake. The hilly terrain can be a great option for enjoying a two-hour hike. The trail is indeed one of the excellent options for all the skill levels. It can also be a great option for the studies for the scientists and researchers.
Centennial Ridges Trail
This is one of the longest trails in the Algonquin park region. It offers you a strenuous hike that spans around 10 km. the loopy terrain provides you access to two high ridges that you would love to explore. The walk should take around four hours to complete. You can even consider a leisurely walk that can take around six hours.
Well, irrespective of which trail you choose to explore, it would be a good idea to hire the right type of transportation option to reach your destination. The Toronto limo bus should be one of the excellent options that would bring a new experience to your hiking requirements. Enjoy an affordable and professional transportation and logistics service and get access to a truly formidable experience ever for almost each of your travel needs in Ontario in general and Toronto in particular.