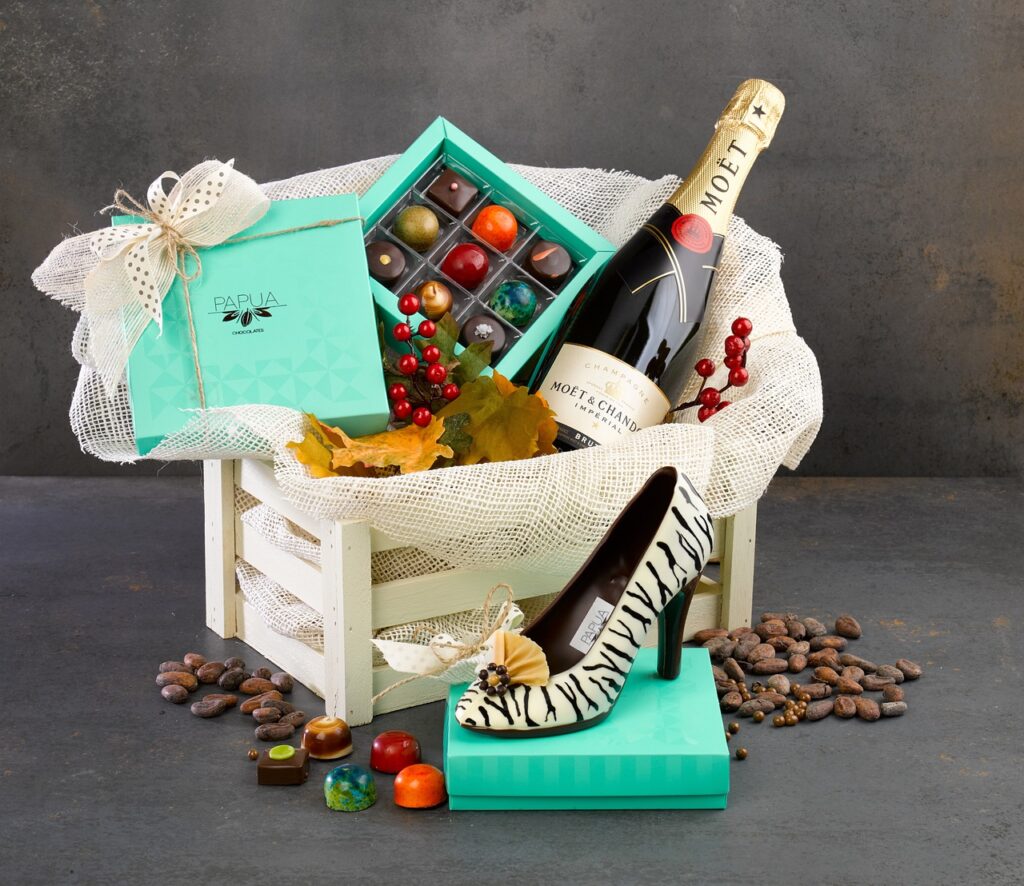 Choosing gift baskets for family members is never easy, but it can seem impossible when you take into account the females in your life. You won't ever run out of possibilities again with this list of enjoyable and original gift basket suggestions.
Nighttime Basket
Girls' nights out are precious. It's the ideal opportunity to unwind from the stresses of daily life while spending time with your friends. You'll need a wide range of things to make the ideal girls' night gift basket. First of all, a good amount of wine is a necessity for every girls' night out. A pleasant and risk-free way to immerse yourself in the moment with your pals is to indulge in some booze. A girls' night out is the ideal opportunity to indulge in all your vices, therefore snacks are also a necessity because as the wine begins flowing, appetites are sure to be sparked. It is a given that snacks like popcorn, chips, chocolate, and sweets will make you happier.
Pajamas would be a wonderful addition to your gift suggestion because a girls' night is all about relaxation. Nothing beats viewing a movie while cozily dressed in your pajamas. You might also think about including adorable face masks and spa supplies. Self-care is the ultimate "girls' night" accessory! You may also include a selection of games in the gift basket for added pleasure. Twister, Monopoly, and a deck of cards are all surefire ways to make friends laugh and lighten the mood.
A karaoke machine is ideal if you're searching for something extra to liven up your gift basket. Fun music and poor singing are the only things that can make a night more lively. A karaoke machine is a certain technique to foster friendship. Other crafts, like knitting, painting, or creating candles and soap, are also certain to improve your relationships. They are fun, enjoyable activities.
Pink Basket
Despite being a cliche, pink is a cute and original motif for a gift basket for girls. Along with pink necessities like soap, perfume, lotion, and tampons, you may also include sweets like bubblegum and gummies. This sweet gift basket, presented in a pink container, is sure to bring smiles to the faces of your loved ones. A special pink card, nail polish, and tiny apparel items like scarves, socks, slippers, or even hats can also be sent. This gift basket is so adaptable and entertaining that it is simple to offer it to a partner, friend, or member of your family. Pink is so widely used that there are countless possibilities! You can combine several hues, add ribbons, bow ties, or glitter to personalize the basket.
Even pink flowers like azaleas, begonias, and roses are acceptable. A cute, inexpensive, and super simple gift basket with a pink theme is perfect for any occasion. Your loved ones will express their gratitude and admiration for your inventiveness. Any event, including an anniversary, birthday, graduation, or even a dance recital, will be enhanced by giving this gift. And if you feel pink is too stereotypical, you can choose any other colour.
A yellow-themed gift basket could include cans of organic tea, certain brands of food, gum, and candy, and flowers such as begonias, water lilies, dahlias, and sunflowers. A blue-themed gift basket could contain blue stuffed animals, blue treats (perhaps even fruit, like blueberries!), and cute knitted scarves, socks, and hats. A green-themed Toronto gift basket could include succulents, plants, and a more natural, atmospheric vibe. You could add a green mug, a green water bottle, or green treats, too. For a purple-themed gift basket, you could go the route of grape flavored treats, and include a purple notebook, purple jewelry, and other fun decorative purple items.
For your more rebellious teen, you could design a black or white gift basket. A black gift basket could have black clothes, black sketching pencils, and a black moleskine journal. A white gift basket could have a lacy decoration, with white roses, lilies, or hydrangea, with small white finishing touches, like mittens or brand-name white socks.